Design Team Double Duty:
Unruly PaperArts: February Heartfelt Issue
:
Readers Art Quest:
I used both the word and photo prompt
My Artistic Adventures
Challenge # 3: Anything Goes
My celebrations are our 44th wedding anniversary and Valentine's Day.
Why not take advantage of my double duty and make something to enter both challenges yourself?
As you can see, I created this wall hanging in my typical vintage style. I love using old-timey images and backgrounds such as script and music. Vintage, just like my blog background, is where I'm most comfortable.
Materials Used:
Heather Hudson's
MyArtisticAdventures Etsy
: Shabby Vintage Chic Valentine's Day Romantic Music Tags Digital Collage Sheet You get a set of 4 colors. I used the beige collage sheet.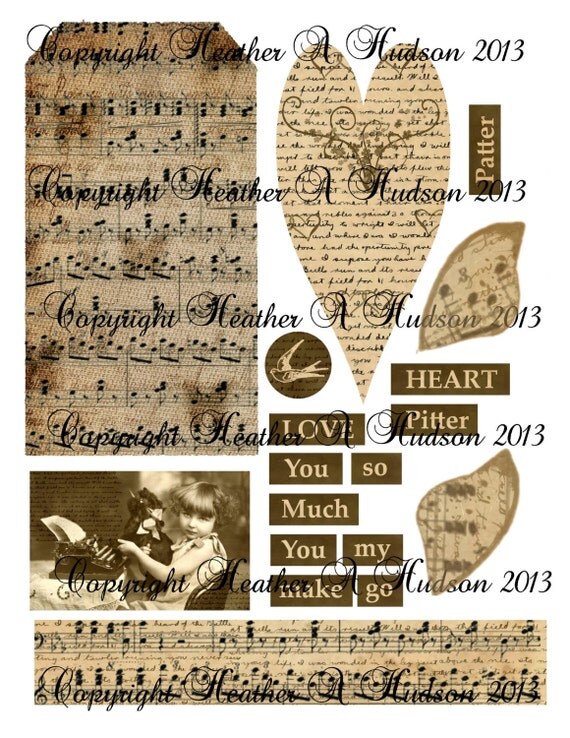 I colored the heart with Ranger Distress Stain:
Broken China
. I used my brand new Tim Holtz rosette die on Heather's music strip.
I peeled back the top layer on my cardboard and painted with Ranger Broken China Distress Paint. I thought it was too blue compared to the distress stain so I covered it with Ranger Bronze Metallic stain.
I edged my papers with Stampin' Up Stamp 'n Write Chocolate Chip marker. Heather has done a nice job distressing her tag. I added a bit of Ranger
Walnut Stain
distress ink to the edges and then edged with Ranger Walnut stain. I also used the stain on the Maya Road scroll mini chipboards.
The Paper Studio: La Petites Blue 3D Paper Flower Stickers
Crochet ribbons from Really Reasonable Ribbon (on-line) (brown layered with cream crochet trims down the right side under the flowers)
Entering these challenges:
Digitally Sweet Challenge
:
Anything Goes Sponsor: Digi Darla--only one entry allowed
4 Crafty Chicks
: Challenge #179
Anything Goes
and Crazy Egg
Live and Love Crafts
: Challenge#20
Love and Lace
As You Like It:
Showcase and Explain Your Favorite Style
Really Reasonable Ribbon
Challenge #88 Anything But a Card-- and Ribbon
Feeling Crafty Challenge
:
Use Your Dies
and /or punches (rosette die)
Sugar Creek Hollow:
Love and Adore
Aud Sentiments
:
challenge 99: Sharing the Love--sentiment of any type
Country View
February Challenge 12:
Painty Pleasures
Fussy and Fancy Friday Challenge
106:
Vintage
All Sorts Challenge:
Love is In the Air
Pile It On
:
Challenge 5: With Ribbon
(sponsor Paper Sweeties) and must have piled on other challenges
Sharing at
Make It Monday
#177 Linky Party
Also sharing at Crafty Bloggers Network FaceBook page.