I refuse to let the winter blahs get to me. Several inches of snow fell last night. But the snow fairy sent a snow shoveling angel to us this morning. This is important because our walk is a block long from the house to the garage. Bless you!
Instead of snow and frigid temps, I'm focusing on love.....our upcoming wedding anniversary, Valentine's Day, and our daughter's wedding...
And what better way to get in the mood than by helping launch Heather Hudson's first challenge at
My Artistic Adventures
with --- what else---- a Valentine challenge!
Challenge #1 Love or Valentines
First things first....
Here's a link to Heather's blog where you can get the straight scoop about her challenge directly from her:
And here's a link to Heather's Etsy Shop where you will find her amazing, vintage style collage sheets:
My Artistic Adventures Etsy Shop
Here is what I made for my first challenge inspiration:

Here are her wonderful collage sheets that I chose to use for my first challenge inspiration along with a mini tutorial or recipe: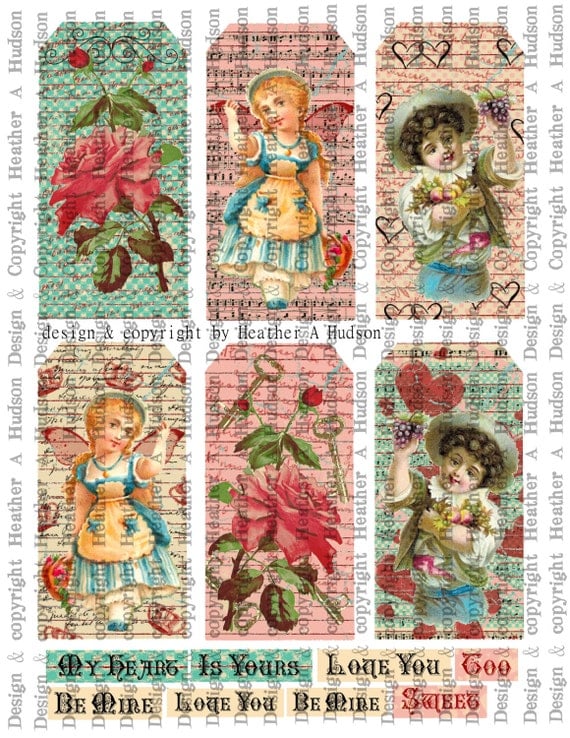 Pink Roses Victorian Boys Girls
I fussy cut one girl and one boy, edged them with marker, and used pop dots (dimensional adhesive foam) behind them.
Use sparkle gel pen to highlight grapes.
Romantic Roses Birds Victorian Vintage Collage Set--I used something from all 3 sheets.
(Endless possibilities here.....)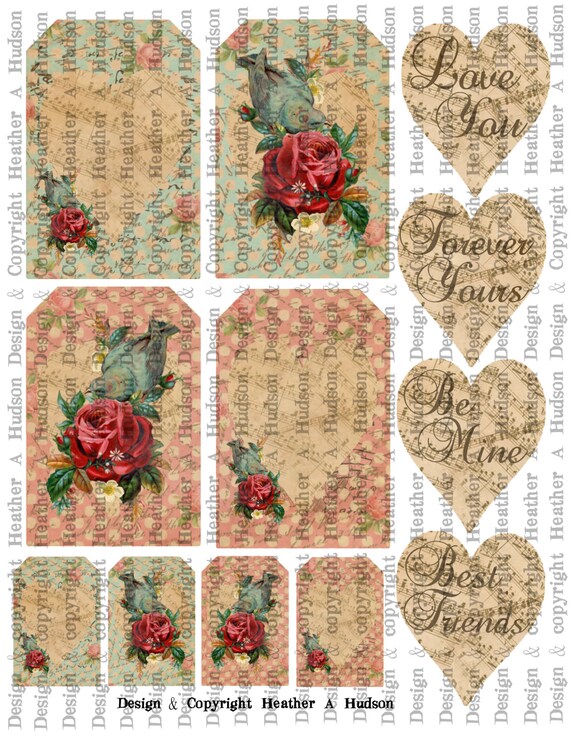 Fussy cut the 2 plain hearts from the centers of the larger tags from this page. Use a dark brown ink to edge the hearts. Crumple the hearts and distress the creases with the brown ink.
Position the girl and boy behind the hearts, draping arms over the front of the hearts; adhere pop dots to the back of the hearts.
An option would be to skip the pop dots and instead create a pocket by adhering with glue only along the edges of the heart. You could then put a little Valentine treat in the pocket which would create the same 3-D effect!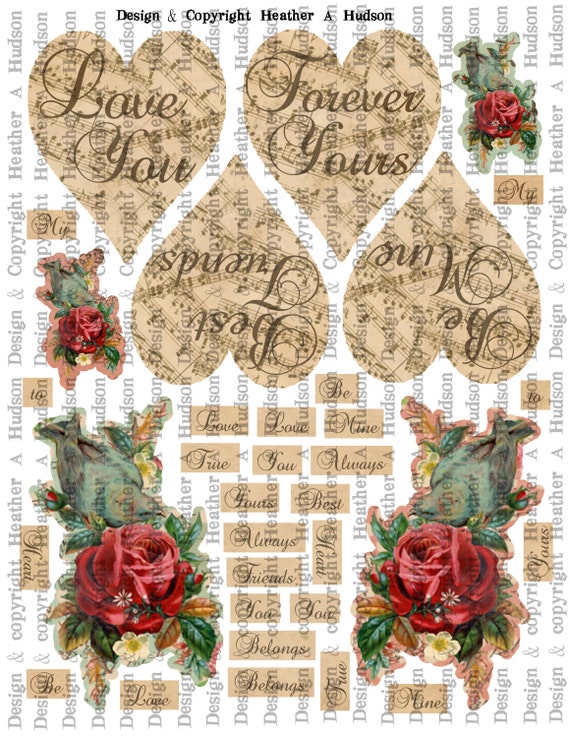 Cut word labels of choice, edge and distress with marker. Use pop dots on the back of these.
Cut an extra rose from one of the sheets to place in the girl's hand.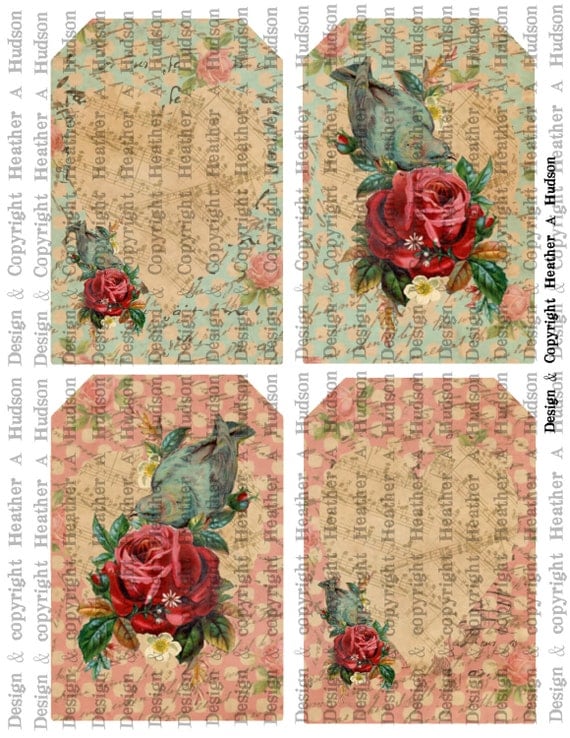 Print this page twice. Cut out the two tags that have the plain heart centers. Edge with glue and dip into glitter.
From the same tags on the duplicate page, fussy cut the bird/rose. Edge with marker and use pop dots to adhere to tag for a nice dimension.
Adhere the smaller heart/girl to center of heart on aqua tag. Add a matching glitter bow. Repeat with boy on other tag. Add a matching glitter ribbon in the shape of a V (for Valentine).
Add word labels.
Use glitter gel pen to highlight petals on all roses.
I'm looking forward to seeing what you make for Heather's challenge.
Don't forget to use your discount code for 15% off a $5.00 or more purchase: MYARTISTICADVENTURES
And of course there's a badge to display on your blog to let your visitors know you've found a great new challenge! You can snag the html code when you're visiting Heather's blog.
I'm linking this to
Make It Monday
MIM#172
, a blog where it's anything goes to share with others and leave comments for others. And you just might win a prize for being nice and leaving others comments about their crafting! Or as they say over at Make It Monday: Create, Share, Inspire....