I promised a post about my
New Year's Resolutions
and then I took off for sunny California without posting!! (Please refer to resolutions #1 and #2!!!!) I'm back now, ready to share.......
I usually have a list a mile long but I decided to keep it short and sweet in 2015. Heather Hudson's collage sheet was the perfect choice for my project. This is a little reminder which I'm putting on my bulletin board above my computer desk in my craft room.
As you know, I'm on Heather's design team. So I'd like you to consider entering her current challenge which is
Anything Goes
. Details about the challenge can be found at the
My Artistic Adventures (MAA) challenge blog HERE.
You'll find the challenge rules, great inspiration from the design team, and a look at her latest collage sheets and a digital paper pack. AND mid-challenge inspiration pieces, including this one, can be found on the
MAA
blog
HERE
. I can't wait to see what you link up at her blog! You have until January 15.
Materials:
(Disclaimer: Because I'm on the design teams for Rogue Redhead Designs, LLC and My Artistic Adventures, I've linked up to the products I used from their sites. As a Creative Consultant for Unruly PaperArts, I received Amazing Mold Putty.)
Base:
Recollections
Chalkboard
black card stock
Coredinations
color core card stock
burnt sugar
Darice
embossing folder
Bee 3 Pack
Rogue Redhead Designs, LLC: Getting Grizzly stamp plate
: honeycomb background stamp
Ranger
Distress Ink:
Brushed Corduroy
Focal Design:
Wilton
4 inch black
doily
circle punch
Starform
Outline Stickers
gold
Score Tape
Doodlebug Design Inc
Doodle Twine
Tim Holtz Alterations
Alphabetical die
Sharpie
marker: black
My Artistic Adventures Digital Papers and Designs Etsy:
Vintage Bumble Bee
collage set:
(I used the digitally designed tag and the word strips.)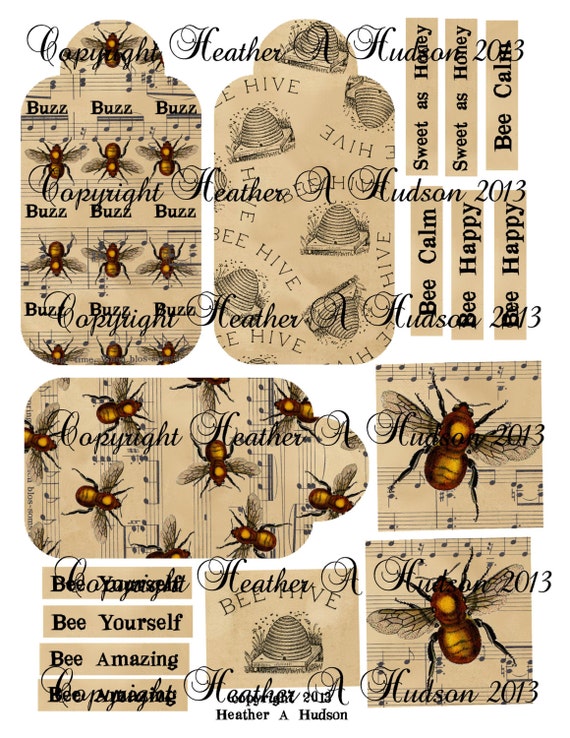 Molded Bee:
Amazing Crafting Products
:
Amazing Mold Putty
Prima Finnabair
Modeling Paste
Opaque White Matte (used as casting agent)
USArtQues
t Perfect Pigment Liquid Acrylic Paint
Yellow Ochre
Ranger
Distress Stain
Tarnished Brass
Ranger
Perfect Pearls Mists
Sunflower Sparkle
Ranger
Distress Ink
walnut stain
Ranger
Distress Ink Marker
vintage photo
Entering these challenges:
Note: for the something new challenges, I tried the amazing mold putty with modeling paste (new product to me) and used for the first time the My Artistic Adventures vintage bee digital collage sheet. To match the black paper which had a sheen to it, I used the Tim Holtz Alterations Alphabetical die to make letters from the same paper. This die is new--I got it for Christmas. And, of course, the resolutions are for the new year.
Artistic Inspirations
Anything Goes with a Touch of New
Jan 18
The Artistic Stamper
January Challenge:
New Beginnings
end of Jan
Addicted to Stamps
Challenge #95:
Use a Tag on Your Creation
Jan 27
Crafting by Designs
: # 122
January Anything Goes
Jan 24
The Crafters' Cafe
Challenge #98: Something New
Jan 24
Country View Challenges
: January:
Something New
end of Jan
Digitally Sweet Challenges
#121 What's
Your Favorite Shape
(is it cheating that this creation has a rectangle, circle and square in it?--I do like the square which allows for symmetry and balance in the design.) Jan 27
Memascrafts J
anuary Challenge
Anything Goes
end of Jan
Open Minded Crafting:
Challenge #27
New Year's Resolutions
Due Jan 16, winner announced Jan 24
Simon Says Stamp Wednesday
Challenge:
Something New
Jan 12
Shopping Our Stash
#183 Happy New Year and Use Something New
Jan 12
Try It On Tuesdays:
My Favorite Things
(I love working with Heather's digital images at My Artistic Adventures, and I'd be lost without my embossing folders and dies.) Jan 19
Pile It On
Challenge #50
Digi paper or precolored digi stamp
Jan 10